1. Introduction of CE Approved Web Sling /Polyester Sling
Introduction of Construction material polyester flat woven webbing sling
The maximum load of flat web slings ranges from 0-30 ton. The length ranges from 1-100 meters. The flt web slings are made of 100%PES, and can enhance the strength of web slings by using intensive eyes or mental accessories at both ends.
Advantages of Construction material polyester flat woven webbing sling
1.The product can be devided into single layer and multi-layer, and can sew in many ways.
2.The siza can follow the customer's requirements.
3.Wide bearing surface, which can reduce the pressure of surface load.
4.Smooth surface, which won't hurt the lifted objects.
5.High strength-to-weight ratio.
6.It can add anti-wear protective sleeve&anti-cut protective cover.
7.It has unique label, and use international standard colours to distanguish the bearing capacity.
8.Easy to carry and soft in texture.
9.The product has experienced PU surface hardening treatment, which enhance the wear resistance.
10.Comply with European standard:EN1492-1:2000.
Parameters of Construction material polyester flat woven webbing sling
Model

Minimum breaking Load(kg)
Rated Load(kg)
Vertical Lift P=1(kg)

45 Degree Angle

Lift P=1.8(kg)

90DegreeAngle

Lift P=1.4(kg)

EB-B-01

6000
1000
1000
1800
1400
EB-B-02
12000
2000
2000
6900
2800
EB-B-03
18000
3000
3000
5400
4200
EB-B-04
24000
4000
4000
7200
5600
EB-B-05
30000
5000
5000
9000
7000
EB-B-06
36000
6000
6000
10800
8400
EB-B-08
48000
8000
8000
14000
11200
EB-B-10
60000
10000
10000
18000
14000
EB-B-12
72000
12000
12000
21600
16800
EB-B-20
120000
20000
20000
36000
28000
EB-B-30
180000
30000
30000
54000
42000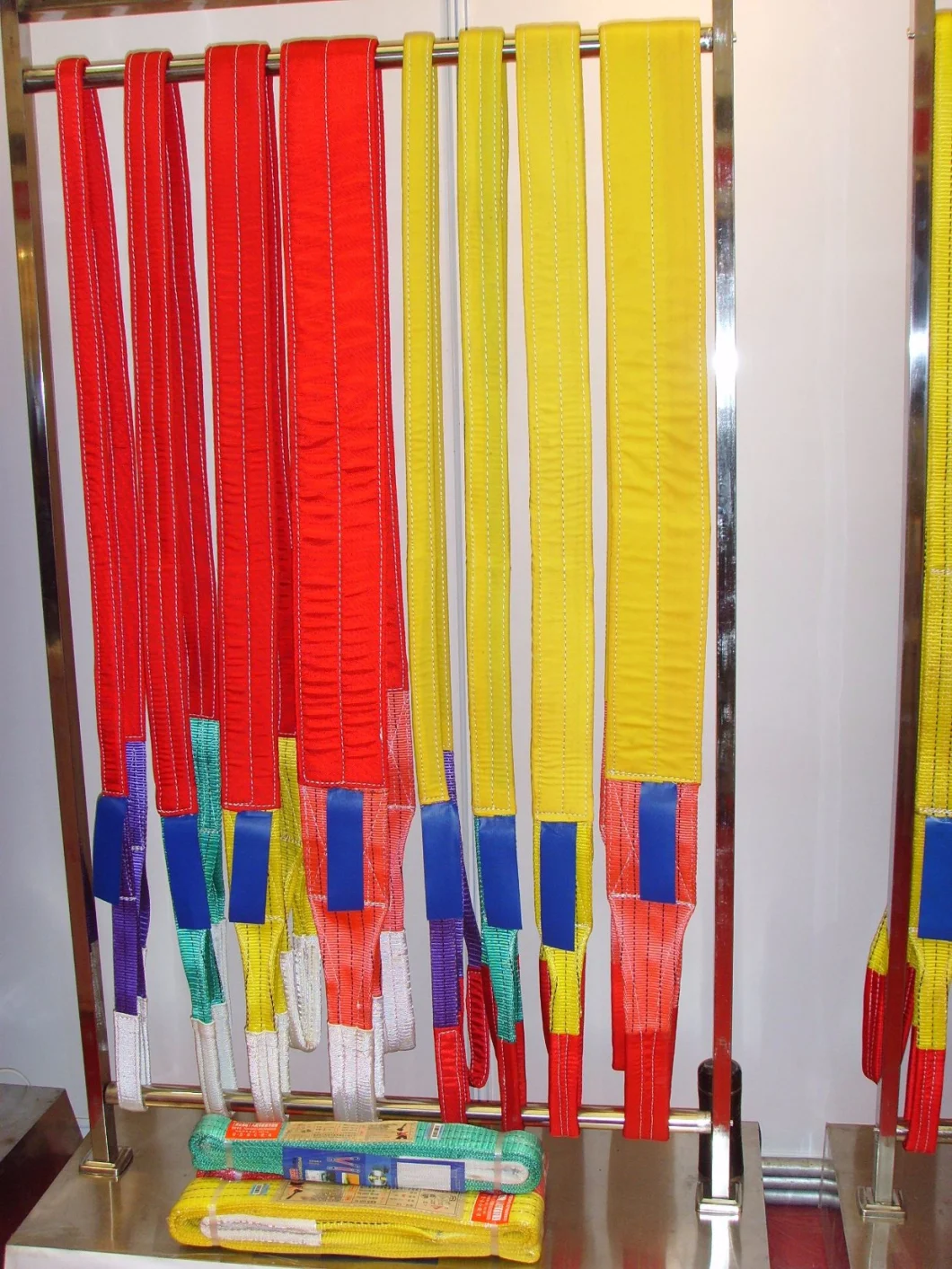 1. Is your product customized?
Thanks for your question. Yes, because the working condition are differet, all our products are cstomizd dependingon detail requirement! So if you give us more informaton about the lift capacity, span, lift height, power source and other specials, we will give you a very quick quote!
2. How many operation methods for my selection?
Thanks for your question. The standard operating methods we provide is pendent controller with push buttons. Meanwhile, we can also provide the remote control with push buttons and the cabin(space capsule seat) control with joystick. You can choose any of them, just tell us!
3. The space of my workshop is limited, can the crane ok for mine?
Thanks for your question. For low headroom workshop, we have the special products. The detail dimension please consult our professional enfineer.
4. What's the information should i provide when inquiry?
a. How much is the maximus lifting weight of the hoist?
b. Have you installed the rails? Do you need us supply the rails? How long is it?
c. Where are the working environment?