50mm ratchet webbing strap 5000kg ratchet tie down strapProduct Description
| | |
| --- | --- |
| Product Name | High quality factory price ratchet cargo lashing belt tie downs |
| Standard | According to EN12195-2:2000 |
| Material | 100% high tenacity polyester |
| Width | 50mm |
| Length | from 1m up to 20m, can be customized as require |
| LC(Load Capacity) | 2500daN/5000daN |
| MBS(Min. Breaking Strength) | 5000kg |
| Strap Color | Orange or as required |
| Ratchet | 2" /5T Plastic handle ratchet |
| Hook | double J hooks |
Features of Cargo Lashing
1)All lashings are individually and uniquely numbered for traceability and safety.
2)High Tenacity Polyester webbing has a high resistance to abrasion - much higher than its polypropylene/Nylon equivalent.
3)Webbing does not weaken with age.
4)Ability to absorb shocks.
5)No hidden corrosion - can be easily checked by eye for damage.
6)Less risk of damage to the load or to painted/Coated surfaces.
7)Supple - can adapt to fit the load easily thereby reducing the chances of damage.
8)Easy and quick to use, saving time and thus saving costs
9)Available in width 25 mm, 35 mm, 50 mm, 75 mm and 100mm.
Usage and Operation
1)The Load Capacity and application should be based on the result of the test, overload is strictly prohibited.
2)Make sure that the fastening direction of Ratchet Tie Down is vertical to the goods.
3)No crossover, torsion, knotting and twisting of Ratchet Tie Down when working. Stop fastening if hearing any abnormal noise of the equipment.
4)If more Ratchet Tie Downs are needed at the same time, make sure that the stress distributes evenly.
Protecting jacket or protect horn is necessary when the goods has any sharp corner.
5)If you are not satisfied with the first fastening, you can loosen the spring of Ratchet Tie Down for further fastening until satisfied.
6)When loosening the Ratchet Tie Down, please pay attention to the stability to protect you from slipped goods.
Related Products in Same Series
About us
Since 2001, we have been specializing in the field of Lashing Equipment and Lifting Equipment. Our main products are Cargo Lashings, Webbing Slings
and Round Slings, etc. In the meantime, we timely develop new products in relevant field to meet market demands, such as Cargo Nets, Edge Protector
and Safety Harness, etc.
All products are produced under strict standard of quality control, and constant research and development ensuring that you will get the latest products
produced with the most advanced and cost effective technologies. Most of our products are CE and GS certified. We are confident that our products and
service will satisfy the highest standards of requirements.
Features:
This ratchet cargo lashings are used for securing truck loads, tying down loads while transporting, shifting or moving them. They have replaced traditional jute ropes, chains and wires used for transportion and for a vairety of other applications securing truck loads. The use of cargo lashings can reduce the chance of load
damage and also protect other traffic party.
The main advantage of ratchet cargo lashings are:
* Load restrain using a tension device(ratchet)
* Effective and safe control of loads during transportation
* Extremely quick and efficient tie down and release the load thus saving time
* No damage to the load being tied down
Warning:
* Not for lifting!
* Only trained and authorized persons are permitted to use the ratchet tie down.
* Working Temperature: - 40°C to + 120°C for polyester (PES).
Caution:
1. Do not exceed the lashing capacity indicated by the manufacturer! In the case of improper use, the transported articles can not be secured correctly and may cause damages.
2. Protect the webbing against sharp edges!
3. Examine the wear or damages of the web lashing before each use. If any wear and damages at the webbing or damages at the metal parts, do not use the ratchet tie down any longer.
4. Make sure the webbing is fitted without twists and in such a way that may influence the rated lashing capacity, otherwise it may cause damages.
Production process :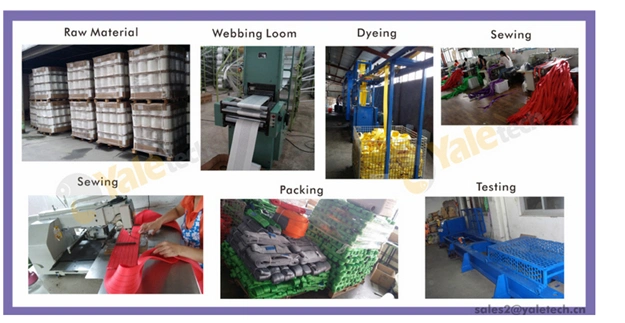 We have got TUV GS certificate for cargo lashing belt ,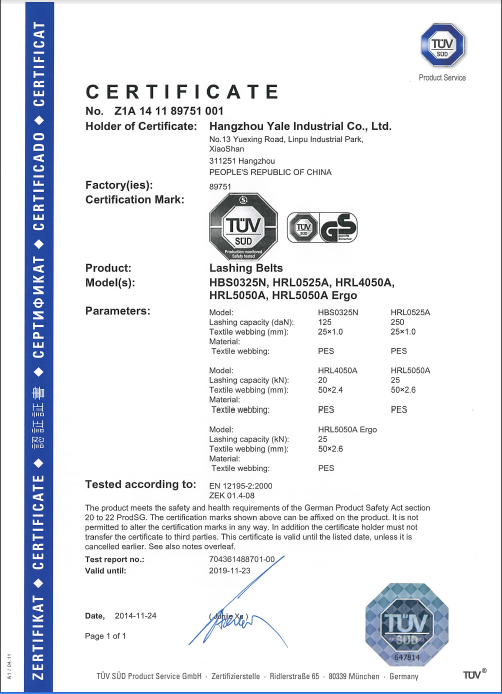 Please feel free to contact with me if you have any problem ,
Alice liu